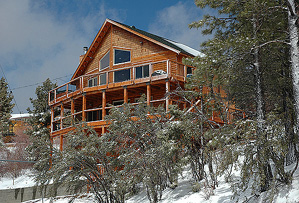 Having worked with numerous management companies in Big Bear I feel I am qualified to compare Big Bear Escapes with the competition. As a home owner of Chateau Badeaux one of my top priorities is the care and management of my home.  From experience, companies will promised all in order to obtain the homes, but little is done to keep them.
They claim that they  will personally check  in on the homes, but the reality is it is up the the housekeepers to do so. Most of the time the house keepers are either new, so not familiar with your home or to busy to note damaged or missing items. With Doria and her crew I find the opposite  to be true. Doria personally expects the property prior to the guests arrival, and than again after their departure.  She has contacted me on several occasions to advise me of a damaged or missing item. In the past when my family and I came for a weekend, I use to spend the better part of a day cleaning, after the cleaners, noting damage and/or missing items. Now I am able to enjoy my home and family time.
My second priority is the amount of rentals and the treatment of the guests. Since I am a proactive renter I have a lot of direct contact with the guests that I book. After their stays I contact them to make sure that their stay was of the highest quality, since I am hoping that they will return. I have many written comments, and am pleased to announce that they are positive.  They are happy with the quick service they receive when they find they are in need of something, the cleanliness of the home and special touches that
Doria personally makes sure are available,  for instance, a Welcome Basket with wine or sparkling cider, fresh coffee, popcorn, snacks and candy. The bathrooms are also supplied with shampoo and soap for each guest.
I have never made this statement in regards to the other property management companies I have used for my property Chateau Badeaux.  I would highly recommend Doria and her staff. They are professional and courteous and the service they provide to both the homeowner and renter is top notch.